North Shore
Haena is at the end of the road. Imagine a backdrop of verdant green mountains and wild tropical foliage meeting at the oceans edge - this is Haena. Here you can hike the famous Na Pali Coast along the Kalalau Trail. The snorkeling is excellent at Ke'e Beach and "Tunnels" and you can kayak on the ocean or, for the really experienced along the Na Pali Coast. Haena is perfect for those who really want to get away from it all. There are miles of beaches to explore and many treks to take.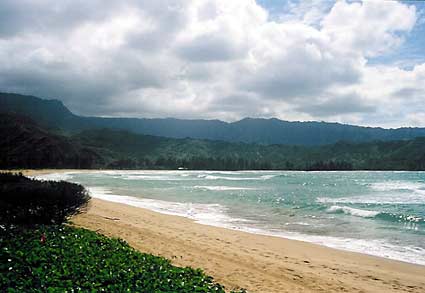 Wainiha is an artists delight, offering spectacular views of the valley and the river below. Lush, green mountains and cascading waterfalls are a delight for the eyes. It's a place you won't soon forget. This is the perfect retreat for those who really want to "relax."
Hanalei is the hub of action for the north shore. This is where the majority of restaurants and shops are. The Hanalei Valley still operates the largest taro fields in the islands. When you view this incredibly scenic valley, time seems to go backwards and a sense of a bygone era, when life was simple, comes alive again. All properties in Hanalei are within walking distance of beautiful Hanalei Bay and Hanalei town. Whether you come to surf, swim, kayak, walk or just relax, Hanalei has it all.
Princeville is a beautiful planned community that boasts three championship golf courses, tennis courts, jogging trails, fitness center and clubhouse, parks, shopping center, dining, and beaches. The area sits on top of a bluff overlooking spectacular Hanalei Bay and the coastline down to famous "Bali Hai." Sunsets are absolutely breathtaking from this vantage point. Imagine the impressive Mt. Nomolukama enshrouded with clouds and the ever changing colors of the setting sun. Sunrises are equally amazing since this is the time you will usually see rainbows after the early morning rains.
Anini Beach is a small beach community. There is only one country road that passes along the calm coastline. Anini boasts one of the largest coral reefs in the Hawaiian Islands. Windsurfing is quite popular here as well as snorkeling, swimming, strolling, deep sea fishing, and Sunday afternoon Polo.
Aliomanu and Moloa'a Bay are secluded bays with the Kong mountain range lurking in the distance. The areas are residential in nature. The beaches are great for strolling, fishing, and snorkeling. The town of Kapaa is 20 minutes to the east and the town of Hanalei is 20 minutes to the west.
kauai - North Shore Accommodations
Other regions of kauai, Hawaii: