South Maui
Stretching from Maalaea Bay to Makena is a series of beautiful beaches for the serious sun worshipper. The climate is arid and gets an average of 10 inches of rain a year. The main towns are Kihei and Wailea. Makena Beach is still one of the most undisturbed beaches on the island. Makena was a hippie hangout in the 60's and 70's and hasn't changed much since then!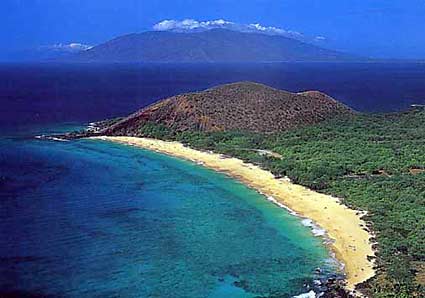 Kihei - Located on Maui's Southwest Shore. This is one of the island's most arid places. The landscape is dry and barren and is best suited for sun worshippers. The beach is a long golden stretch of sand. If you look hard enough you might see cement pillboxes on the beach. These are left over reminders of WWII's threatened Japanese invasions. They are located on Kihei Rd. north of town.
Wailea - Located in southwest Maui, this planned resort area was once dry and barren but now is a flowering oasis. Wailea is home to some of the most exclusive destination resorts on Maui. Wailea has five crescent beaches which stretch for nearly 2 miles and are connected with an oceanfront one and a half mile botanical walking path. Swimming is good here and so is snorkeling.
maui - South Maui Accommodations
Other regions of maui, Hawaii: