West Maui
West Maui is sunny and warm year-round. The area encompasses Olawalu to Kapalua and it is where most of the island's visitor industry is located.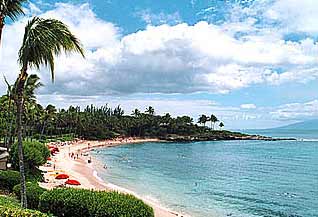 Olawalu - Once the grounds of a great sugar plantation. The weather is arid, beaches are long and provide for some great snorkeling if you know where to go. Surfing is good here during the winter months. Olowalu is a 10 minute drive from Lahaina.
Lahaina - One of the most historic and charming towns in the islands. Much of the town has been designated as a National Historic Landmark. It has a colorful history of the rebellion by the belligerent sailors against the staunch ideas of the missionaries. You can take a self-guided walking tour through the historic town. Lahaina has numerous chic restaurants; nightclubs; fabulous art galleries and numerous shops.
Kaanapali - The Grand Dame of resort areas. The beach is sandy and is approximately three miles in length. There are golf courses, tennis courts, boat charter; spectacular beaches, walking trails; nightclubs, casual to fine dining, shopping mall with a first rate whaling museum and some of the finest accommodations on the entire island.
The weather is beautiful year-round, with wonderful trade breezes and little rain. The views of Molokai and Lanai are stunning. Lahaina is a five minute drive away or you can take the shuttle from the Whaler's Market to Lahaina. Kaanapali is a perfect destination resort area for honeymooners or families.
Napili - Quiet and lush. Great views of Molokai and Lanai. Accommodations are more affordable in the condo/villa populated area of Napili. Napili Bay is a beautiful cove of sugar white sand. The colors of the ocean are breathtaking. Good snorkeling and swimming. Great for families during the summer/fall months. Lahaina is aprox. a 10 minute drive away.
Kapalua - The resort area of Kapalua is absolutely sublime. This is the Beverly Hills of Maui! The pace is slower; best suited for those who want to escape from the maddening crowd. Golf courses are spectacular; villas have breathtaking views of ocean or golf courses. All offer dramatic views of Molokai and Lanai. Beautiful Kapalua Bay is great for snorkeling. D.T. Fleming beach offers more privacy and is one of Maui's nicest beach parks. Some of the best surfing in the winter is at Honolua Bay.
maui - West Maui Accommodations
Other regions of maui, Hawaii: